Tooth Bleaching Services for South San Francisco
As you well know, you only get one chance to make a first impression. A beautiful, warm smile portrays self confidence, an essential quality for building personal relationships and making advancements in your career. Teeth whitening is extremely popular and for good reason … it gives your smile that extra something special and also reinforces a positive self image.
Your teeth can often stain or become discolored as time goes by due to a number of reasons. Common causes are drinking coffee or wine, smoking, and taking certain medications. Often, people will try to get white teeth using teeth whitening kits that you see in the grocery store, only to find that they do not provide the same results as professional services. Daly City dentist Dr. Hovden is a trained specialist and will give you the teeth whitening results that will take your smile from dull to sparkling.
The Process of Zoom Whitening
Along with other procedures, our practice specializes in ZOOM!TM teeth whitening. Other at home kits often take weeks to produce results and usually only whiten teeth a few unnoticeable shades. On the other hand ZOOM! will produce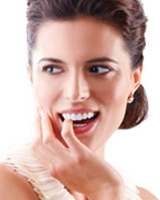 amazing results in just one visit using teeth bleaching. Become up to 8 shades whiter in only one hour with this simple process:
Tooth prep: After recommending Zoom! for you teeth whitening option, Dr. Hovden will cover your gums and keep only your teeth exposed.
Whitening Gel Application: Dr. Hovden will cover you teeth with a special tooth bleaching gel.
Zoom! Light Application: In only three segments that last fifteen minutes each, a light shined on your teeth will activate the gel causing the tooth whitening process.
The Benefits of Zoom Whitening
– Zoom whitening is a very safe procedure.
– The custom trays are made for comfort
– Longer lasting than other techniques
Call us today to schedule a visit for the most effective teeth whitening system available and a new brilliant smile with your beautiful white teeth! Dr. Hovden provides teeth whitening to residents all over the South San Francisco area, including Daly City and Pacifica!