Get Durable and Beautiful Dental Implants in South San Francisco
About Implants | Why Choose Implants? | Implant Procedure | Implants Vs. Dentures | Implants Vs. Bridges | Contact Us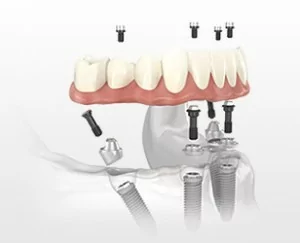 A beautiful smile is one of the first things people notice. Missing teeth can have a very negative impact on how others see you, as well as how you see yourself. The right tooth implant can greatly improve your smile and your oral health.

Dental implants are an ideal solution for restoration, and a professional that specializes in implant dentistry can help rebuild your confidence and self-esteem. We are proud to be able to provide this as an effective option at our Daly City office.
A dental implant is one of the most successful options available for replacing missing teeth.
About Dental Implants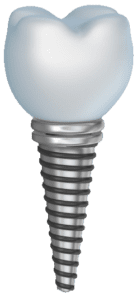 Our San Mateo county dentist, Dr. Ken Hovden, specializes in placement and restoration of dental implants, as well as implant-supported dentures.
What does this mean for you? You only have one office location to deal with. For the whole life cycle of your dental implant and associated procedures, you come to the same building, and see the same staff.
Some common uses of dental implants are:
To replace one or several missing teeth.
To support a permanent bridge.
To anchor dentures or a removable partial.

Made to look and function like your own teeth, dental implants are both cosmetic and restorative in nature. A tooth implant is a complete replacement for the original root, eventually connecting to the jaw to act as an anchor for a dental crown. Dr. Hovden has years of experience providing quality implant dentistry services, and he is ready to serve you!
Why Choose Dental Implants?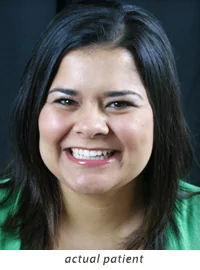 Support Providing: Dental implants can give you the same support as your natural teeth for more comfortable chewing.
Teeth Straightening: A tooth implant can close up gaps. This can prevent a crooked smile caused by your teeth shifting out of place.
Aesthetics: A tooth implant is made to match your existing teeth for a smile that looks both beautiful and natural.
Easy Care: Dental implants can be cared for the same way you would care for your natural teeth, and they don't require additional maintenance.
Your Health: One danger of a missing tooth is bone atrophy, which can cause your jaw line to become crooked or fragile. Because dental implants act as your natural root, they help in preventing bone loss and maintaining symmetry.
Dental Implant Procedure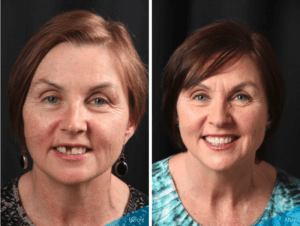 If Dr. Ken Hovden determines that you are a good candidate for dental implants, he will carefully select the location for the dental implant procedure. We then position the dental implant in the jawbone.
After several weeks, the bone will fuse with the dental implant in a process called osseointegration. Eventually, the surrounding tissues will also heal around the dental implant to support it.

After healing, we can place a second piece on your implants, called the abutment, as a connector. We will then place a replacement dental crown onto the abutment for a natural-looking and permanent replacement. A denture or fixed bridge can also be anchored to dental implants for stability and function.
"I am 62 years old and I have worn dentures since I was 28. Recently, I had a dental implant procedure and for the first time in all of those years, I feel like my teeth are natural. I am very pleased with the results. Also, the implants procedure, for the most part, was relatively with little pain or discomfort. I found Dr. Hovden and his staff to be very professional, helpful and accommodating."
---
Tooth Implants vs. Dentures
Lower dentures are often loose fitting. The supporting gum tissue shrinks, causing poor fit, which leads to discomfort. It is difficult to talk and eat the same way you did with your natural teeth. This can impact social and professional opportunities.
Upper dentures are easier than lower dentures to wear, because suction along the roof of the mouth helps hold the denture in place. But covering the top of the mouth restricts the ability to taste food. Chewing food and talking can be challenging, not to mention the slippage that can cause embarrassing clicking sounds.

Both lower and upper traditional dentures also need to be periodically replaced, which is both expensive and inconvenient. As a dental implant dentist in the South San Francisco area, Dr. Kenneth Hovden, DDS, offers a solution to these problems using teeth implants. Anchoring dentures with dental tooth implants is a long-lasting solution to many of these disadvantages. Securing your dentures with tooth implants will vastly improve eating, speaking, and smiling, as well as your overall dental health.
Tooth Implants vs. Bridges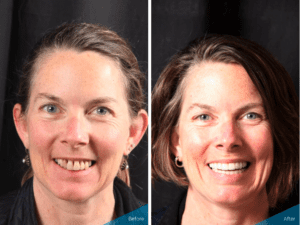 A dental bridge is another solution for the replacement of a missing tooth or group of missing teeth.
In order to anchor a fixed bridge, portions of neighboring teeth are often shaved off. Studies show there is a failure rate of up to 30% in teeth located next to a fixed bridge or partial denture. It is likely that the bridge will need to be replaced twice or more over the course of a lifetime, which can be costly!

However, with dental tooth implants, healthy neighboring teeth remain untouched. In addition, tooth implants help maintain the strong underlying bone structure by stimulating the tissue and jawbone underneath the gum line.
Get Your Beautiful Smile Back With Dental Implants in South San Francisco
Contact us to see if you qualify for our experienced implant dentistry services or if you'd like more information! We are proud to serve patients all over the South San Francisco area, from Daly City to Pacifica!