Permanent Dentures Available in Daly City
Benefits | Procedure | Contact Us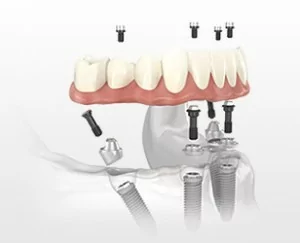 Implant-supported dentures have many advantages compared to traditional dentures. They can be the perfect choice if you are concerned about the complications that come with wearing a typical denture, including:
Limiting certain foods.
Fear that they may fall out.
Having to remove them every night for cleaning.
We provide implant-supported dentures, which make these worries a thing of the past. Patients love this procedure's convenience. You can gain all the great benefits of implant-supported dentures in just one day at our Daly City office.
Implant-supported dentures require a slightly more involved procedure, but the benefits you receive are well worth it. Many people have opted for implant-supported dentures to improve the quality of their oral health care and, more importantly, their daily lives.
The Benefits of Implant-Supported Dentures:
Easy Care: No hassle is required for removing your dentures to clean them. With the implant supported denture procedure, caring for your health is similar to the everyday routine you would follow to care for your natural teeth.
Fixed to Implants: Because your dentures are attached to dental implants, you don't have to worry about embarrassing situations when regular dentures may fall out. Implant-supported dentures give you peace of mind when talking and eating with friends and family.
Normalize Eating: One of the biggest problems with traditional dentures is the inability to eat many of the foods you love. Implant-supported dentures allow you to eat normally, including those foods that would otherwise be difficult to chew.
Beautifying: Not only do implant supported dentures have many obvious every day benefits, but they also strengthen and enhance your smile—giving you a beautiful new look.
We are eager to help you with our denture implants if you are in the South San Francisco or Pacifica area! Call us today in Daly City to find out how implant supported dentures can improve your oral health and simplify your life!
Denture Implants Procedure in Daly City
Dental Implants Placement: The denture implants procedure begins with the surgical placement of the dental implants into the gums and jawbone of the patient. This requires only a small incision for each titanium screw, upon which an abutment can be attached. A complete top row denture will typically require 6-8 implants while a complete bottom row will require 4-5 implants.
Implant Healing: After the initial implant procedure, your gums and jaw bone will need time to heal around the implant. This process is called osseointegration and it typically takes anywhere from 2-7 months.
Abutment Placement: After the implant has had time to fuse to the gums and jawbone, Dr. Hovden, DDS, will perform minor surgery to expose the tops of the implants so that abutments can be placed on the upper portion of the implant. The abutment is what the denture will be able to attach to once it is ready.
Denture Attachment: With the implants healed and the abutment exposed, your Daly City implant dentist can then securely attach your custom-made denture appliance. You will be able to talk, smile, and chew like anyone else with a full set of teeth!
Learn More About Implant Dentures at Kenneth Hovden, DDS
For more information on the denture implant procedure, please contact us today! Dr. Hovden, DDS, and his staff proudly provide dental implants and implant-supported dentures services to patients in and around Daly City, including Pacifica, South San Francisco, and the surrounding areas.