Restorative Dental Treatment in San Mateo County, California
Restorative dentistry works hand in hand with cosmetic dentistry to restore decayed, damaged, or missing teeth in order to revitalize your naturally beautiful smile. Daly City dentist Dr. Ken Hovden expertly repairs smiles in our South San Francisco area restorative dental office, helping each patient walk away with an aesthetically pleasing smile that best expresses them. Whether you are in need of a simple filling or full mouth restoration, Dr. Hovden is a professional restoration dentist who uses a myriad of restorative techniques to craft each patient a personalized dental plan. Restorative dentistry is the key to refreshing your smile.
You can place confidence and your smile in the hands of Dr. Ken Hovden. As an award winning restorative dentist and a well sought-after lecturer and mentor for other dental professionals across the nation, he has reached a high level of expertise that creates an excellent dental experience for each patient.
Direct Bonding Gold Medal Winner AACD Smile Gallery


Restorative Dental Treatments Include:
Dental Implants: Dental implants restore one or more missing teeth. Tooth implants provide the same anchoring support of a natural tooth root, and are topped by an artificial tooth that looks like your surrounding teeth. Dental implants are one of the most successful restorative and cosmetic dental procedures. For more detailed information on implants, take a look at our dental implants site.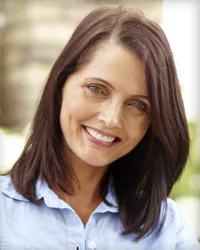 Porcelain Crowns: Porcelain dental crowns are artificial teeth that are carefully shaped and colored to match your natural teeth. Crowns, also known as 'caps,' restore functionality to severely damaged teeth. Each dental crown is made of a durable porcelain material that offers chewing support and protection from further tooth decay when placed over the existing damaged tooth.
Dental Veneers: Porcelain veneers are thin, tooth-like ceramic shells that adhere to the front of your teeth. Veneers restore misaligned, cracked, chipped, and discolored teeth. Prepless veneers offer the same aesthetic results, but require less preparatory shaving of the natural tooth enamel. We have more information about our dental veneers on our porcelain veneer site.
Bonding: Dental bonding is an ideal restorative solution for teeth that are slightly chipped or cracked. An enamel-like resin is adhered and sculpted to the front of the damaged tooth, covering up the chip or crack.
Dental Bridges: Dental bridges are a common restoration procedure used to fill the space of one or more missing teeth. Whether supported by a dental implant or a partial denture, a dental bridge restores functionality and appearance to your smile with an artificial tooth.
Prosthodontics: Prosthodontics is a dental field that focuses on the creation and fitting of artificial replacements of the teeth and mouth. Dental implants, porcelain veneers, and dental crowns are all prosthodontic procedures used to restore functionality to the mouth.
Dental Fillings: As one of the most common restorative procedures, dental fillings repair decay and cracks in teeth. Routine dental checkups are important so that Dr. Hovden can detect and restore these slightly damaged teeth.
To learn more about how Dr. Ken Hovden can restore your beautiful smile with restoration dentistry, call our Kenneth Hovden DDS office today in Daly City, CA or fill out the simple form on this page to schedule an initial restorative dental consultation. We look forward to hearing from you.