Dental Warranty in Daly City, CA
Protect Your Smile Investment With Peace of Mind
A beautiful, healthy smile is a significant investment. One that you want to last for a lifetime. However, many patients receiving dental restorations worry about the possibility of future damage to their new smile.
Patients at Kenneth Hovden, DDS, no longer need to worry about bearing the possible costs of future repair work or restoration replacements. Because of his top quality cosmetic and restorative dental work, Dr. Hovden has recently been certified by Dental Warranty Corp. to offer patients an exclusive third party warranty program to ensure future peace-of-mind.
Warranty Coverage from Dental Warranty Corp: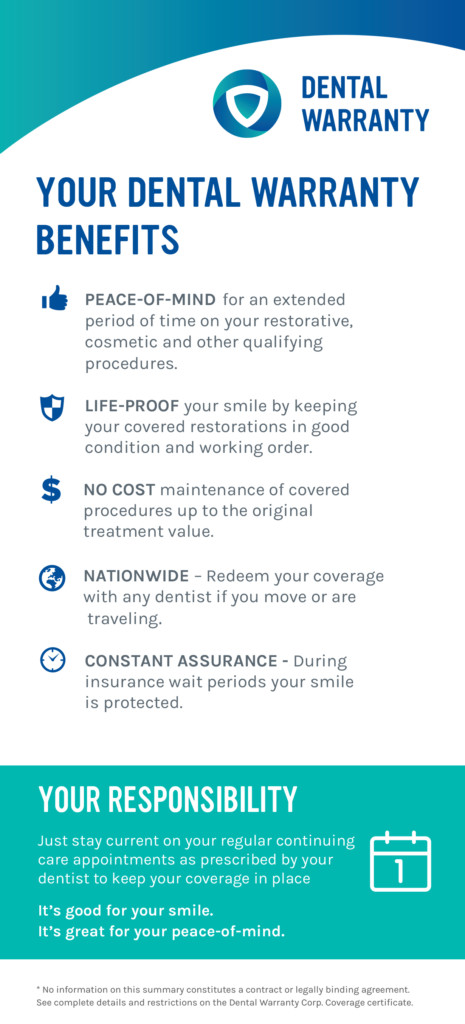 "No-Fault" Coverage: Repairs or replacement work on qualifying restorations will be covered no matter how it broke, no matter where the patient lives, and no matter if Kenneth Hovden DDS is still available.
"No-Cost" Repair: The warranty will cover any repair or replacement dental work up to the cost of the original restoration.
"Follows Your Smile" Coverage: Even if a patient moves to a different location, any repairs or restoration replacements are still covered by the warranty. The patient will be referred to the closest Dental Warranty Corp. certified dental practice for service.
"Constant Assurance": A patient's dental work would still be covered by the warranty even if the original dentist is no longer practicing years down the road.
"Peace-of-Mind": Patients can have peace-of-mind for several years, knowing that if something were to happen to their smile, they will not have to worry about paying the expenses for repair or replacement.
Patient Responsibility:
In order to keep the dental warranty in force, the patient must maintain regular hygiene appointments to ensure oral health and continuing care. Daily oral hygiene and dental visits are essential when it comes to longevity.
* This Dental Warranty summary does not constitute a contract or legally binding agreement. For complete details and restrictions, see the Dental Warranty Corp. Warranty certificate.
Kenneth Hovden, DDS, in the South San Francisco area, is proud to now offer patients an even higher standard of care and peace-of-mind with this new dental guarantee service. We care about protecting the investment you make in your smile.
Contact Us Today to Learn More
If you are in the South San Francisco area, from Pacifica to Daly City, call us today to schedule a cosmetic or restorative dental consultation or procedure. We can tell you more about the many benefits you can receive from our dental warranty service.